Sunday, March 22, 2020
Good morning, dear friends in Christ!  Welcome to our time of worship-in print-today.  We are all facing uncertainties as a result of the COVID-19 Coronavirus disease spreading.  We are all asked to take precautions in ways that are unimaginable just weeks ago.  Adjustments and changes are happening in our school, work, play, at home and as a church.  We are hopeful to be able to bring you a visual worship experience in the coming weeks.  For today, let us worship God together through our printed word.  Let us be the Body of Christ in worship now.  Please share this by email or printed copy with those who may not be on our church office email list of regular attenders and members.  Thank you.  Pastor Susan
Call to Worship
When the world is dark and full of hate and fear,
when we cannot see God
we will turn on the light.
When we cannot find our way back to love and peace
we will turn on the light.
When our vision dims due to the darkness within
we will turn on the light.
Christ opens our eyes with the gift of sight.
The light of the world is Jesus Christ.
Come and worship the one
who brings sight to the blind.
Hallelujah! Praise God, the light of the world!
Opening Prayer
Gracious God, hear us as we pray in the middle of uncertainties,
Keep us close to you as we feel feelings and thoughts that are hard to manage,
Show us the way to be your light in the middle of isolating for safety's sake,
Give us courage to be your messengers of hope and caring-to be the body of Christ,
Gracious God, who created us in God's own image,
we are grateful for all that you have done for us,
for all that you are doing in us,
and for all that you will do through us.
Open our eyes to see your presence among us,
moving in powerful ways at all times
and in all places.
Open our ears to hear familiar words in new ways—
ways that will change us and challenge us
to become the people you created us to be.
Grant us the power and the courage
to come out of the darkness
and into the light of Jesus Christ,
that we may serve you by serving others.
We love you with all our heart, soul, mind,
and strength. Amen.
Prayer of Confession
Forgiving God, in a world filled with so much pain, uncertainty, and needs,
we would rather shut our eyes and be blind
than see things as they really are.
Grant us the courage to face the reality of our world,
and give us the strength to bring your light
to those who walk in darkness.
Help us see others as you see them,
and forgive us when we do not trust you enough
to open our eyes to the possibilities before us.
Heal our self-inflicted blindness, O God,
and lead us in the footsteps
of the Light of the World,
who reveals your glory in his life,
his teachings, and his love.
In his holy name, we pray. Amen.
Words of Assurance
Christ came to lead us in paths of righteousness
and to guide us through our lives.
Christ is with us in times of danger and times of peace.
The goodness and mercy of God
are given to us each and every day of our lives.
God forgives us for our failings, upholds us in love,
and leads us to the place
that Christ has prepared for us.
Believe in your heart that God loves you
and forgives you.
We believe! God help our unbelief!
Gospel reading and Message. 
Today is the Fourth Sunday of Lent.  Our Lenten journey has focused on the final 24 hours of Jesus' life-the 24 hours that changed the world.  Each Sunday we have looked at and reflected on a segment of time in Jesus' life from the experience of the Last Supper on Maundy Thursday (Holy Thursday) through the Crucifixion.  Our Sunday focus has paralleled our Lenten study written by Adam Hamilton, 24 Hours That Changed the World.
I'm including the pictures and Gospel of Mark scripture verses connected with each of the pictures of the bulletin covers from the last three Sundays.  Before going on, please take a few minutes to look at the scripture passages in your Bible and, also, look at the picture.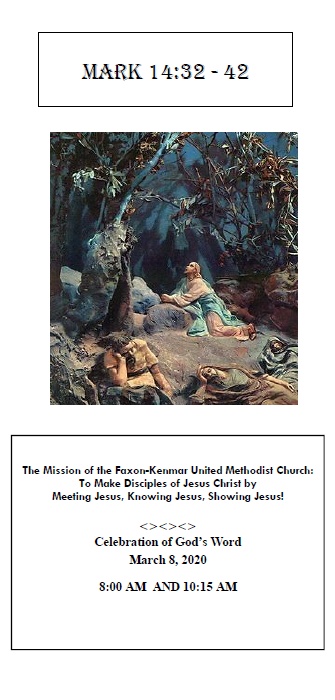 Now-today as we continue our sermon series we focus on the event of the experience of Jesus as he comes before Pilot.  Please open your Bible and read the passage from Mark 15:1-15.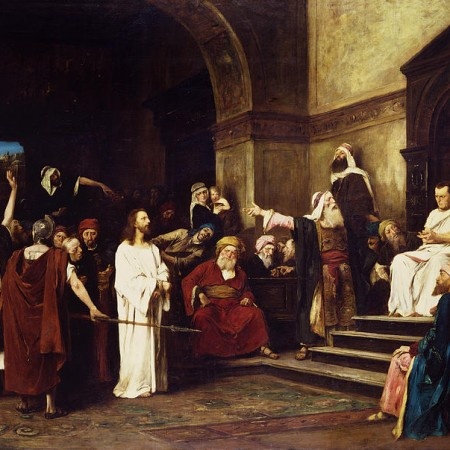 Jesus had come before the Sanhedrin at the trial (last week). Now he came before Pilate-the Roman person in charge.  Jesus was not about leading a rebellion against Rome. Pilate became aware that the Sanhedrin, the religious authorities, were threatened by Jesus.  What Pilate could not figure out was why-when Jesus came before Pilate-he didn't speak up.
We might ask-why didn't Jesus take that opportunity to speak up?
We don't know the answer to that question.  What we can do is see more of the big picture.  What was Jesus fulfilling by not going into a big defense of who he was?  We can see Jesus offering himself as a sacrifice for people-and so fulfilling God's plan.  By giving himself, he offered grace and pardon for humankind…for all of us.
The crowd wanted Barabbas saved and for Pilate to kill Jesus.  Barabbas might well have been wondering-me? How do I get out of this situation so easily. Maybe even thinking something like "Jesus is dying for me? In place of me?  When seeing the cross today we can see God's love for us. It's amazing to realize what a cost that was to Jesus-his life.
It's helpful when digging into scripture to look at which person in the story do you identify with.  In this case-do you see yourself as Barabbas, or a person in the crowd? Or as Pilate?  Letting the whole picture sink in can help us see the gift God has given us, God's grace-Jesus dying for us-so we may be made whole.
Each time I read the story of Jesus at this time of year, something new gets my attention.  This year I've looked a lot at Pilate's role in the end of Jesus' life.  How pivotal his role was.  What a struggle he had with knowing what to do.  He was pulled in different directions, not knowing what decision to make about the fate of Jesus' life.  Adam Hamilton writes, "Each of us surely has played the part he played.  From the time we were small, we have known the pull of the crowd.  As adults, we feel it in a variety of ways-in our desire for acceptance, in our fear of ridicule and rejection.  Our inability to think for ourselves leaves us silent when we should speak, leaves us doing or supporting things we know are wrong. (pg 77, 24 Hours That Changed the World). In this passage and in your prayer time, I encourage you to consider how do you do when faced with decisions like this-going with the crowd,  or going with what you know and believe to be right.  Each of us is faced during these weeks of the pandemic of COVID-19-how do we decide what to do, how to respond to requests to stay at home, to maintain distance between people, etc?  One of the best ways to make the shift of doing "what I want" and doing "what is best for the whole world" is to choose to behave as if you have the virus, and in remaining isolated- away from others-choosing to love others, and to put the "we" before the "me".
This is a very tough time for us today.  We can live with the assurance that Jesus always is with us…God does not leave us.  God can give us calm and peace.  It is, also, a time when we can put into practice the reality that who we are as the Body of Christ is how we show the light of Christ through us and not because of our church building.  We are always thankful for our church building, but today, this week, God calls us to be the church, the light of Christ in the world, separate from our building.
May God guide us as a church and may God be with you in the struggle.
Prayer
Holy God, we ask for your mercy.  Be with us throughout the world as we face the hardships of the spreading virus.  Guide and direct the medical researchers, government decision-makers, private sector business and industry owners in working in a proactive way.  Encourage, strengthen and be with all of the frontline health care workers and their families as they work hard to care for people.  Be with all of the workers that are needed to carry out essential work-like grocery stores, truckers, custodians and many more.  May we as a people understand that you can help us learn to care for each other and to live in new ways. Guide us as a people to help those who remain anxious, depressed and deeply hurting from isolation that is required at this time.  Lord, we pray.  In Jesus' name. Amen.
Offering
In one of the messages to you earlier in the week, I suggested one way you continue sharing your tithes and offering is to send it in the mail.  If you have a question about your offering, you may email or call the church office.  Messages are picked up regularly. Mail is picked up regularly from the church, also.
Offering Prayer
God, we give you thanks for all of the ways you love you and commit our gifts to you.  Guide us, we pray, to use the gifts of our hearts, our actions, our gifts, our witness to your glory and to your healing power.  In Jesus' name. Amen.
Benediction
Go into the world, carrying the light of Christ
into the darkness!
We go, with hearts full and eyes open!
Receive God's love and care,
and share that love and care with others!
We go, with eyes reflecting God's light
and hands open to share it!
May you walk in the light of Christ
all the days of your life!
We will follow Christ wherever he leads us! Amen!
Pastor Susan
Cell phone 717-377-9266
Personal email shalverstadt@nullsusumc.org
Faxon-Kenmar United Methodist Church
570-323-7272
fkumc@nullcomcast.net